A Shared Passion for Education:
Ronald Po and Shell NXplorers
Jose Rizal was right, ang kabataan ang pag-asa ng bayan.
The youth will always have the potential to change the course of the future—they can learn from the mistakes of the past and make solutions beyond society's wildest dreams. In the early stages of their education, it is important to invest in their potential. But this is easier said than done.
Enter Shell NXplorers, an innovative educational program dedicated to empowering the youth. Through this program, STEM students are introduced to complex and creative thinking skills needed for the jobs of tomorrow. This equips them with the right tools to address the world's food, water, and energy problems—or Nexus problems—and become positive agents of change.
With such a promising objective, educators involved in the program have their hands full. Between guiding the students and teaching them a new perspective in problem solving, the tasks can become quite intimidating. And so, to truly inspire the next generation, passion must be added into the equation. A passion that burns for the youth, a passion for progress. A passion Ronald Po knows all too well.
Ronald is Shell's Senior Continuous Improvement Portfolio Lead and has been with the company for 5 years now. When PSFI opened the opportunity for Shell employees to become facilitators and trainers for Shell NXplorers, Ronald immediately took his chance.
Before working in Shell, Ronald worked as a faculty member in UP Diliman for about 11 years. This background in education would eventually come in as an important asset to him as he used this as leverage to improve training and capability development within the company. According to him, teaching was his first love.
"First love never dies", he said. This is the kind of undying passion that he puts out into the world that is reflected in his support to the Shell NXplorers program. Despite issues with logistics due to the pandemic, Ronald, together with the PSFI team, have been dedicated in working on the program, optimizing it for students wherever they may be.
"Due to COVID, the program had to be adjusted and recalibrated in preparation of approaching the program with limitations."
On top of Ronald's concerns were the accessibility of the program, bandwidth issues, as well as the attention span of students. Anticipating the problems, Ronald and the team planned extensively, processing observations and notes before creating a solid plan of action. With this, Shell NXplorers continued even during the pandemic, inspiring yet another batch of future leaders.
Since facilitating Shell NXplorers workshops in 2019, Ronald has continued to work on and improve the program. As a matter of fact, his passion and dedication has caught the attention of awarding bodies. In January of this year, Ronald was merited with the Bronze Medal in the Excellence in Facilitation category of the 2021 NX Global Recognitions Awards.
Ever an educator through and through, he shared that his proudest achievement with Shell NXplorers is seeing the students grow their passion for STEM.
"(My proudest achievement is) when we found out our first batch of students went to different engineering and science schools after attending the program." Ronald says.
Ronald sees Shell NXplorers more than just another educational initiative, but more of a way to help students realize their fullest potentials.
"We do it in a way that we allow them to think critically and unlock their skills. We just guide them."
Ronald notes that the best part of being in the Shell NXplorers program is seeing students come up with the best idea. "We as facilitators are not there to teach them, but to light the path and guide them." He says. "It's unbelievable how creative they are, the way they think. Their passion translates to creativity. The capabilities of young people never cease to amaze me." For those who are hesitant to take the path that leads to Shell NXplorers, here is Ronald's advice: "Go for it."
Ronald believes that one does not need to be the biggest fan of STEM or to be an intellectual to participate. After all, there are different kinds of intelligence and different ways to see the world.
"Shell NXplorers is really a way of thinking. It challenges you to look at different aspects. It offers context, perspective, foresight, and analytical thinking. It's for everyone." Ronald continues.
Among the stories to be told in over 40 years of empowering communities, Ronald's path in supporting Shell NXplorers is among those that are worth telling. PSFI shares this passion in STEM education with Ronald, a passion that has driven progress and will continue to do so in the years to come.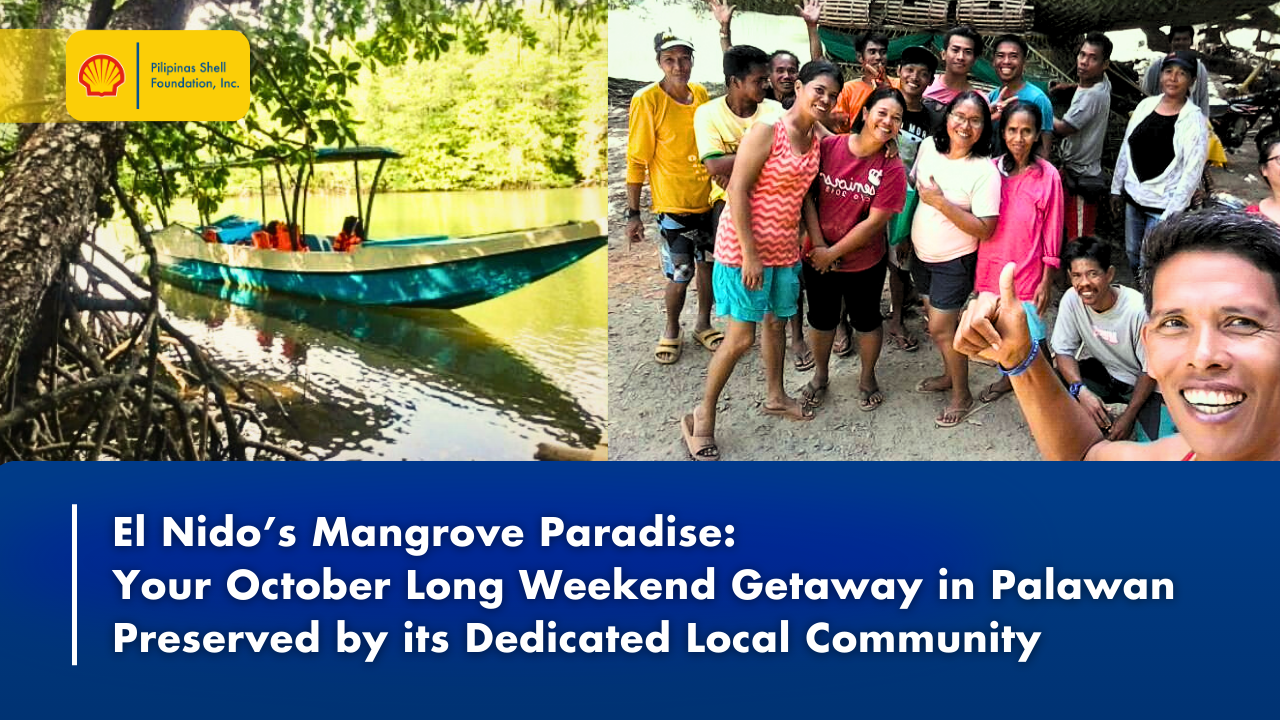 El Nido is a top tourist destination known for its turquoise waters and white-sand beaches. But it also offers a different kind of beauty that isn't known to many. Around 23 kilometers from the town proper is a seldom-explored 412-hectare mangrove forest located in Brgy. New Ibajay. Since 2018, the Dewil Eco-Mangrove Association (DEMA) has been safeguarding and facilitating ecotourism in the area.
Help us empower communities to become responsible and productive members of society
Help us empower communities to become responsible and productive members of society
© 2020 All Rights Reserved | Pilipinas Shell Foundation Inc.