BREAKING THE CHAINS OF POVERTY:
ELIZABETH ESTABILLO FOR SKIL
Pilipinas Shell Foundation, Inc. (PSFI) , prides itself in creating programs that address the challenges Filipinos continue to face everyday, all of which are in line with the United Nations Sustainable Development Goals (UN SDGs). When the foundation was first established 40 years ago, SKIL or Sanayan sa Kakayahang Indstriyal was created as a pilot program to address the widespread unemployment in the country.
In line with SDG 8, pertaining to decent work and economic growth, PSFI created this program in partnership with TESDA, which offers 3-6 month courses at TESDA-accredited schools, providing education to deserving out-of-school youth and granting them livelihood opportunities.
Through this program, countless out-of-school Filipino youth were able to forge their own paths with the opportunities provided to them and maximize their capabilities to be able to reach their full potential. One such success story is that of Elizabeth Captily Estabillo.
"I am forever grateful that I was one of the PSFI beneficiaries, it changed my life." Says Elizabeth.
She was part of the second batch of SKIL's woodworking courses in 1984. Upon graduating from the course, Elizabeth and other scholars were matched to a job in Taguig where they worked for a while. With a newfound self-confidence, she set her sights to a new and ambitious goal.
"I was determined to break the chain of poverty in our family."
She knew that in order to do this, she had to get a complete college education. Elizabeth asked her parents to support her studies even for just one semester, promising to work and support herself in the following semesters. . Her parents agreed to help her, loaning from a lander to pay for her matriculation. On her end, Elizabeth found herself a job as a housemaid.
"I studied at night, bearing in my mind that I would sacrifice for four years then I would get a stable job."
After four years of balancing her responsibilities at work and studying, she finally graduated in 1990 with a Bachelor's degree in Education. Now entering the workforce equipped with determination and her unwavering attitude, Elizabeth always pondered about her time as a PSFI scholar, taking with her the most integral aspects the program imparted on her.
"I carried in the workplace the virtues I gained when I was at the training as a PSFI scholar. I learned to value honesty, compassion, generosity and fairness."
Her first job upon graduating was as an English teacher, where she spent her time focusing on helping all her students become proficient in the English language, teaching them the basic skills of reading and writing. On several instances, she would use her free time to conduct remedial reading classes to those who struggled to read. Aside from this, she also mentored students who joined and won competitions related to publication and journalism.
With all of these, it comes as no surprise that her dedication is recognized both by esteemed colleagues and her beloved students, garnering recognitions as Most Popular Teacher, Patient Teacher, and Most Outstanding Head Teacher She was even a recipient of the Outstanding Capaseño Award in the field of Education (secondary Level) in 2006, awarded by the local government unit.
Now an accomplished teacher, Elizabeth has also earned her master's degree at Pampanga State Agricultural University and is now a Master of Arts in Education major in Educational Management.
From starting in a contractual position, Elizabeth worked hard to climb the ranks, eventually reaching the position she deservedly holds at the moment as a head teacher and acting assistant principal at Benigno S. Aquino National High School in Concepcion, Tarlac.
"Who would have thought that I am now in a position to handle70 Senior High School Teachers wherein eight (8) of them are Master Teachers and stationed in the biggest schools in the entire Schools Division of Tarlac Province."
Now, a proud mother and decorated educator, she is fully capable of supporting her children as they study and earn their own degrees. "From hand-to-mouth living, now earning which supports the education of my sons. My eldest graduated Bachelor of Science in Agriculture at Pampanga State Agricultural University while the youngest is a graduating student taking up Broadcast Communication at Polytechnic University of the Philippines."
Everyone works to live the life they desire, and Elizabeth is no exception. She sees the importance of sharing her story, possibly raising a generation of passionate and dedicated individuals.
"There's no money in teaching, I mean, you would not get rich but I consider it my greatest treasure in the sense that I was able to touch the lives of my students and inspire them by sharing my experience. I am a living testimony of poverty—it is not a hindrance to reach your goals."
Elizabeth's story fully captures how more than knowledge, SKIL inspires the youth with values and provides hope to those who get the opportunity. She is an example of how dedication, hard work and perseverance can help you achieve the goals you set for yourself. Since starting SKIL in the 1980's, PSFI has continued supporting the youth in making their own path in life and unlocking their capabilities and potential to be able to find their purpose in life.
"This is my journey to success. I proudly say, 'Ang tatak PSFI ay lumalaban sa hamon ng buhay dahil pinanday ng tibay ng loob, kabutihang asal, pagmamalasakit, at pagmamahal. Iyan ako!' I was holistically developed by the PSFI Family."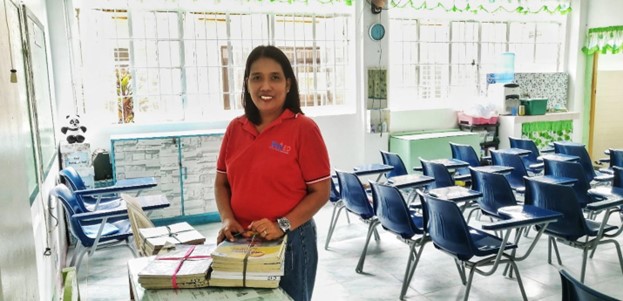 The country had struggled with Malaria
for most of the 20th century, and it
remained one of the leading causes of death…
Help us empower communities to become responsible and productive members of society
Help us empower communities to become responsible and productive members of society
© 2020 All Rights Reserved | Pilipinas Shell Foundation Inc.