ELENA ENCIO:
A CHAMPION FOR THE SCHOLARS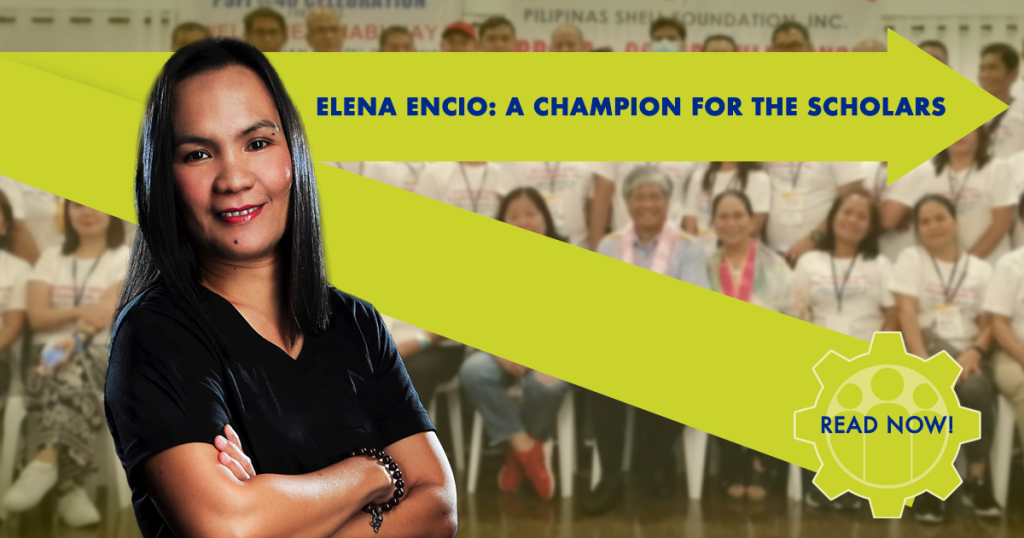 In 4 decades of helping Filipino youth find a path towards realizing their own potential, one thing PSFI scholars find with the chance to finish their education is a shot at a welcoming family, one that understands where they're coming from. PSFI scholars aren't just left to their devices, but rather, are supported by their fellow scholars and even mentored by PSFI staff.
Those whole find themselves among the PSFI family are recognized for who they are and who they could be. After all, they deserve to be appreciated by someone who understands their experience, and luckily, some of the staff have been exactly where the scholars are standing now.
"Without PSFI, I am nothing—wala ako dito ngayon at 'di ako siguro nagkaroon ng chance magbalik-turo sa iba."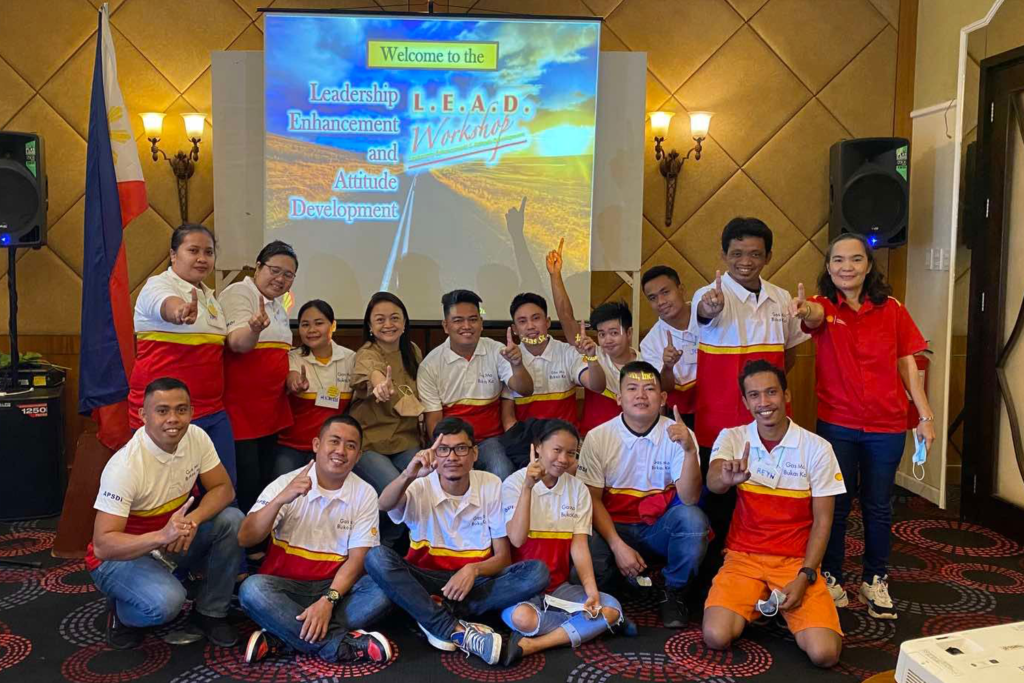 Elena Encio is a PSFI staff member with a passion for helping and supporting scholars. She's currently known to handle those within PSFI's scholarship programs like Shell Tabangao Ladies Circle (STLc), Gas Mo Bukas Ko (GMBK), Shell Employee Dependents Scholarship Program (SEDSP) just to name a few.
Just like them, Elena was also once a PSFI scholar who dreamed of finishing her education and climbing to greater heights.
Elena started out taking up Business Administration in college, but when she was dissuaded by a family member from continuing, she decided to take up Computer Programming instead. As the 8th of 10 siblings, her family wasn't able to fully support her shift to a different program, prompting her to stop her studies. Despite this, she wouldn't let this hurdle be a setback in her life, Elena refused to accept that she had to halt her education.
"Talagang vision in life ko ang magkapagtapos ng pag-aaral. No matter what. Gagawa at gagawa ako ng paraan para makapag-aral. Nung nagkaroon ng scholarship opportunity, wala akong second thought."
When she was looking for ways to continue studying, a neighbor reached out to her after hearing from the radio of a scholarship program from Shell. Without any hesitation, Elena hurriedly gathered all requirements and applied, knowing for sure that this was what she had been yearning for. Elena underwent the rigorous and tedious process of applying for the scholarship and in 1992, her dreams came to fruition, Elena became a PSFI SKIL scholar.
Sanayan sa Kakayahang Industriyal or SKIL allows students to take a vocational course for employment in developing industries to address a demand in the workforce. Elena's program consisted of taking 6 months of studying and 6 months of on-the-job training before she officially takes off as a graduate of the program.
"For me, SKIL is very helpful, lalo na mga out-of-school youth kagaya ko noon. 'Yun yung stepping stone namin."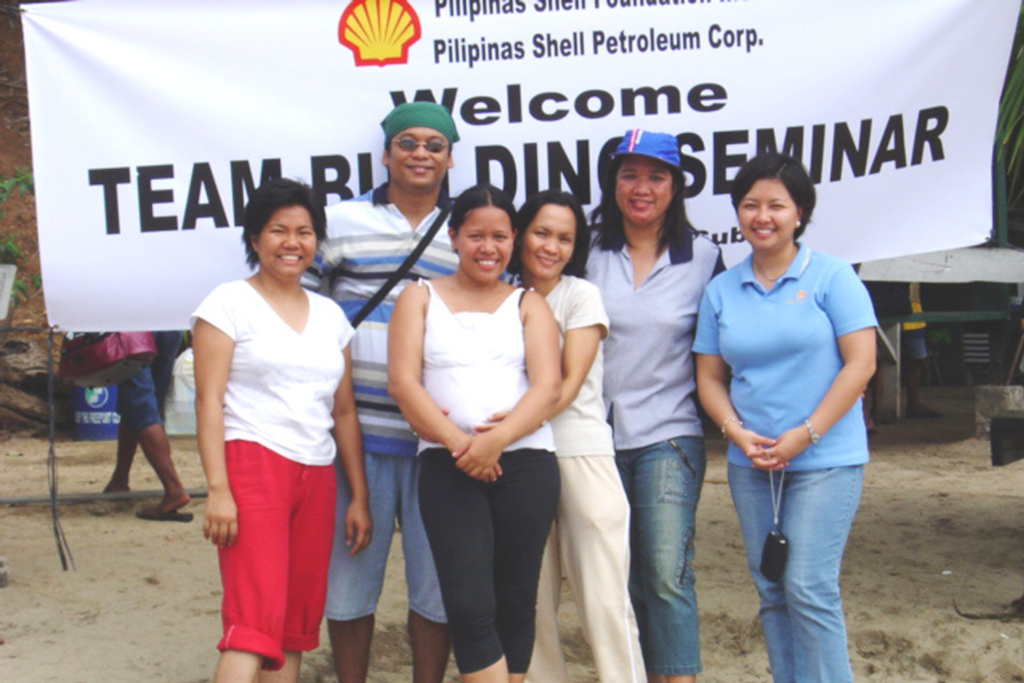 Much like anything worth achieving, becoming a SKIL scholar was no easy feat. Scholars had to study hard and act accordingly, inspiring each other to be the best versions of themselves while studying to be deserving recipients of the program.
"Under training kasi talaga, disiplinado dapat kami. So kailangan 'pag sinabing by 8:00, Monday to Friday, we need to attend, if not, hindi talaga kami makakareceive ng allowance from Shell. So ayun, discipline is a must and tiyaga kung gusto mo talaga."
While there were difficulties and challenges, Elena found pleasure in getting to know the other SKIL scholars and developing a bond with them. They worked with each other to get to the finish line and did whatever they could to support each other in times of need.
"Talagang tulungan kami. Kung sino ang nangangailangan, 'yun yung tutulungan. May mga scholars kami na from the province, yung as in nauubos na nila yung pera nila for food—so ginagawa namin since from Manila kami at may family kahit papaano nagssupport—binibigyan namin sila tig-50 para makasurvive."
All was going well and Elena was right on track. When she finished her 6th month of studying, her OJTs kicked in. She and the other scholars started working with partner companies and were compensated for their services rendered. She was about to finish her scholarship while working at an electronics firm, but an opportunity knocked on her door and she had to answer.
"In the middle, running for regularship na ako, pero kinuha ako ng kapatid ko na pumunta ng Singapore para mag-aral. Nagresign ako."
While her experience with PSFI was cut short, it was not all in vain as all her training and learnings would follow her wherever she went. Her discipline and resolve would always be with her, and she would forever be a PSFI SKIL scholar at heart.
She'd return to the Philippines later on in time for PSFI's 20th anniversary in 2002 where she would attend and see what the Foundation had been up to since she left. At the time, PSFI's scholarship graduates were asked to fill out their profiles and she submitted hers.
"After how many months, may tumawag sa akin, pinapapunta daw ako sa Shell. Yung grupo ng mga scholars ng alumni, nagform sila ng grupo non, SHELAPI, yung isa doon tinawagan ako."
In 2004, Elena became the focal person of SHELAPI and she was assigned to manage the database in Pandacan. In the same year, she would be absorbed into PSFI where she'd climb the ranks from being an admin assistant, to program assistant, to project officer for SKIL. At this point, she had come full circle. Aside from handling SKIL, she'd soon become the program officer for other PSFI scholarship programs as well.
"Mahal ko work ko dito kasi nakikita ko sarili ko sa mga beneficiary. For me, ang work ko dito sa PSFI ay payback. Tinulungan ako ni Shell noon, tutulong ako para naman sa iba."
Elena believes in the importance of pushing through with education and hopes that her story can inspire PSFI scholars the way they inspire her to keep going and supporting the next generation.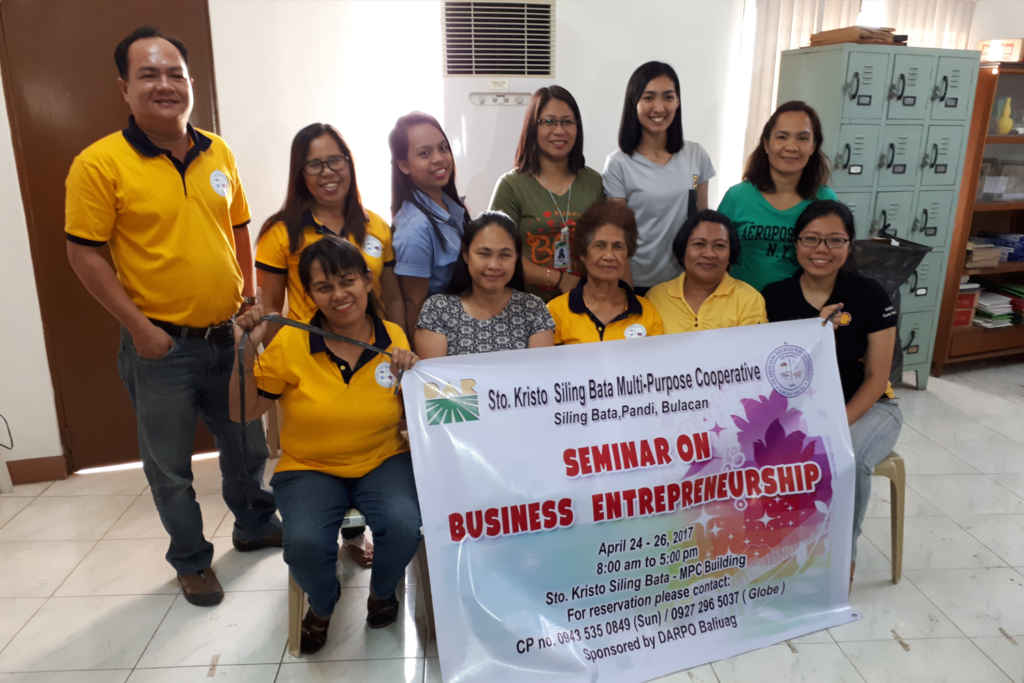 "'Pag naririnig mo mga messages from scholars, appreciating works na ginagawa ko—paano ko nattouch life nila. 'Yun yung nagbbigay sa akin na mas magstay at magserve pa sa PSFI."
In over 40 years of helping students finish their education and reach farther in life, PSFI continues to help the youth become holistically effective members of society. By passing on the kindness that was given to her, Elena represents the PSFI scholar motto "Tinulungan ako noon, tutulong ako ngayon."
"From day 1 until now, sobrang thankful kasi whatever opportunity I have in my life right now, it started with PSFI as a scholar—so yung learnings and experiences and people na tinanggap ako at mga friends ko sa PSFI na di ko lang tinuring na friends, tinuring as a family."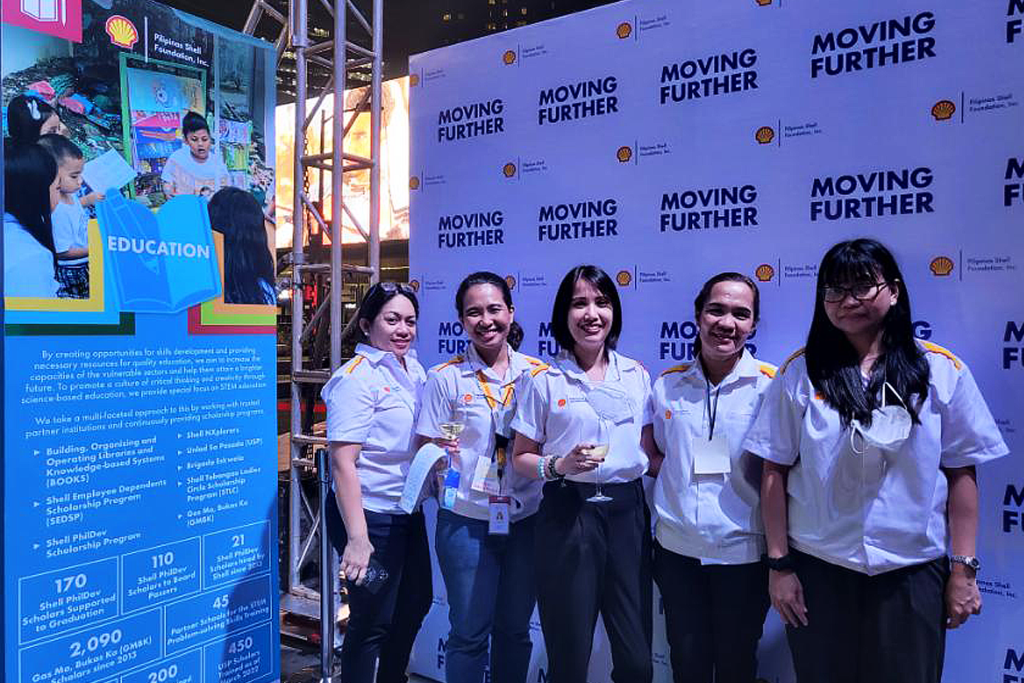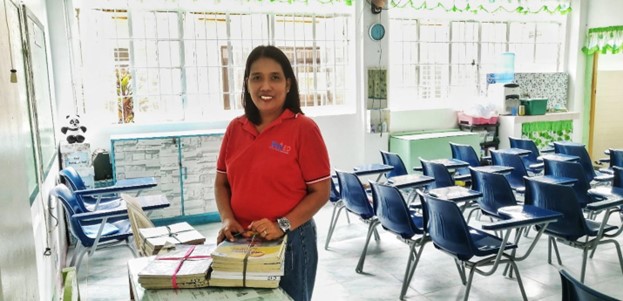 The country had struggled with Malaria
for most of the 20th century, and it
remained one of the leading causes of death…
Help us empower communities to become responsible and productive members of society
Help us empower communities to become responsible and productive members of society
© 2020 All Rights Reserved | Pilipinas Shell Foundation Inc.