#MOVINGFURTHER:
A CELEBRATION OF 40 YEARS OF PROGRESS
In August 1982, PSFI was established to help the country's out-of-school youth and uplift the lives of Filipinos. 40 years later, with the expansion of programs into 6 thematic areas aligned with the United Nations Sustainable Development Goals, the good work continues.
What started as a noble dream with just 2 programs and 7 staff members has since grown into a foundation with over 30 programs and almost 200 staff.
2022 marks the Foundation's 40th year of supporting Filipino communities. Together with partners who share the decades-long mission of empowering communities to become responsible and productive members of society, PSFI has continued to deliver positive social impact, innovate new programs, and overcome challenging times to help bring the vision of a better, inclusive, resilient, and empowered Filipino society to life.
To celebrate this momentous occasion, PSFI recognized the efforts, commitment, and perseverance of those who have helped deliver successful programs, as well as those who helped make the Foundation what it is today.
The celebration started early this year by launching the '40 stories for 40 years' campaign where a spotlight is given to the inspiring stories of beneficiaries. This was followed by a celebratory caravan that took the Foundation's anniversary to 8 different locations in the Philippines. These community celebrations included a variety of activities filled with elements that captured the essence of bringing joy to partner communities, especially those that the Foundation works with.
Each celebration recognized local partners who were instrumental to the success and implementation of programs in their location. A localized exhibit also talked about existing and legacy programs in each site to help attendees know about the rich history between PSFI and their locality. Booths managed by beneficiaries themselves were also opened for attendees to explore and experience the fruits of PSFI programs, promoting products that have been created and improved through the Foundation's upskilling opportunities.
The Community Celebrations were kicked off in Batangas, where a ribbon cutting ceremony officially marked the start of the Foundation's anniversary celebration. An excited crowd welcomed the inaugural event and cheered alongside the recognition of 15 stakeholders of PSFI's programs in the area. Booths were also opened for the first time, showcasing products that are proudly pinoy. Among the booths present were the Shell LiveWIRE market, which featured products made in partnership with local MSMEs including Batangas' very own SIMCO and their Simply Care line.
In Pililla, the community celebration was filled with lively music, games, and a welcoming crowd. The community welcomed PSFI's celebration with open arms, participating in a variety of fun activities prepared just for them. PSFI also had a taste of the amazing kitchen skills of the partners in Pililla through an exciting cooking contest where participants dished out healthy and delicious meals that wowed the judges and the guests.
Smiles and applause continued throughout the Palawan community celebration. The week-long celebration filled with learning sessions, activities, and games was integrated with the famous Baragatan Festival. There were several booths featuring products from PSFI's partner farmers, environment conservation efforts, and free HIV and malaria testing supported by the Foundation's Global Fund programs. Here, PSFI also recognized 211 partners and stakeholders who were key contributors to the success of our programs, especially in a site where they have been present for over 2 decades. Guests were also entertained by the Sining Palawan Dance Troupe who graced the stage with multiple cultural performances.
Partners and beneficiaries were in attendance at the Tagbilaran community celebration. The two-day event was filled with activities, learning sessions, free HIV testing and booths with products from PSFI's local partners. Included here were Shell LiveWIRE, SKIL, and NXplorers. A full display of masterpieces created by local artists were on also put on display from the "Waste-to-Art" initiative, wherein young local artists were encouraged to use wastes found along coastal areas to help raise awareness on the harmful effects of pollution.
Mayor Cajes-Yap also took part in the celebration, expressing her eagerness to working together with PSFI in helping citizens of the city, "I would like to manifest my support in all your (PSFI's) future endeavors in Tagbilaran city. We are called the city of peace and friendship, so rest assured whatever you have planned for Tagbilaran in the coming years, you have my all-out support and you have also the support of the city hall family."
The community celebration in Pasacao occurred simultaneously with Nutrition Month, making for a lively and more meaningful event for beneficiaries and partners in Camarines Sur. The day began with a motorcade wherein the members of the community decorated their floats and dressed up in costumes made from fresh produce and traversed around the area in celebration of PSFI's 40th anniversary. PSFI also prepared numerous exciting activities including a cooking contest, trivia questions with raffle prizes, and "Volunteer Feud" inspired by the TV gameshow "Family Feud". Throughout the day PSFI also recognized partners and thanked them for their support in helping execute the Foundation's nutrition and agriculture programs for the community.
The celebration in Camarines Sur continued in the municipality of Bombon. Similar to the celebration in Pasacao, the day was filled with exciting games, activities, and learning sessions for beneficiaries. A wide array of products from PSFI's partner farmers were on display at the STF, IFBS, 3FP, and RTS booths. Prizes were given for those who participated in the cooking contest and raffle draw. The highly anticipated TikTok dance contest also took place, where young members of the community were encouraged to show their creativity in the form of dance while participating in the "Nutrition Month" themed challenge.
In Cagayan De Oro, the community celebration had an aspect of learning to it. In the morning, attendees were invited to participate in a live BiyaHERO training. After lunch was served and everybody had hearty meals, the program went on ahead with recognizing stakeholders that helped PSFI programs in the locality. A special intermission performance by the City Hall Chorale serenaded attendees. The booths provided various services for the attendees, including free HIV testing. The Plastic Drive Booth, which collected plastic wastes in exchange for snacks, also made its debut here. The plastic wastes collected will be upcycled by PSFI's Ecobrick Project, which provides livelihood opportunities in CDO by creating alternative construction materials from repurposed plastic.
As the final leg in PSFI's community celebrations, Tacloban's program was beautifully symbolic. The event took place alongside the graduation of a new batch of SKIL scholars. Attendees cheered on as the latest batch of scholars marched on stage for their graduation ceremony. Once more, stakeholders went on stage to be duly recognized for their efforts that led to the success of PSFI programs in Tacloban. Among the booths present here were the HIV information booth, the Plastic Drive booth, and the Shell LiveWIRE booth.
Marking the end of the series of community celebration, the Tacloban celebration filled everyone with happiness and served as a reminder to always look up towards a brighter future.
Every community celebration, online release, and activity from the start of the year, had been leading up to one big culminating activity: the Moving Further Grand Celebration. The Grand Celebration was a hybrid event that invited PSFI's team, partners, and beneficiaries to celebrate the momentous occasion. The Grand Celebration was held last August 19 at the BGC Amphitheater.
Day 1 of the event absolutely lived up to the expectations. Guests were welcomed to the event grounds to celebrate with PSFI by learning more about the Foundation through the exhibits. There were two exhibits featured, one talking about the thematic areas that represent PSFI's existing and legacy programs, while the other expounding on the Foundation's illustrious history. PSFI staff also represented partners and drew in guests by going all out in showcasing their local and sustainable products via marketplace booths. Bayanihan para sa Pangkabuhayan (BSP) and Shell LiveWIRE program booths were set-up, which aim to support local enterprises by linking them to the Shell Value Chain. These booths featured products made by participants of Shell's flagship enterprise development program and PSFI's sustainable farming programs. The Box-All-You-Can booth—a crowd favorite—was also present. In partnership with Rural Rising, the Box-All-You-Can allowed participants to fill up a box with fruits and vegetables that they can fit in their provided containers for only Php 699.
The Post-it wall, which was taken through all 8 Community Celebrations, was also put-up. It showcased messages of encouragement and intent from people in partner communities and encouraged guests of the Grand Celebration to be a part of it as well. They were prompted to complete the statement "Para sa mas magandang kinabukasan, kaya kong…" to send out the message that everyone plays a part in moving the country further to a better future.
Come nighttime, the special program took place. The Grand Celebration recognized 40 partners who have made significant contributions in making a positive impact to the lives of Filipinos. Both the physical and virtual venue was filled with PSFI's most valuable guests. Light refreshments were served to the guests while special performances entertained them. 
Important members and guests were also invited to speak on their experience with PSFI. Romano Reyes, SAKA program alum who is now a successful pharmaceutical owner, shared how his experience forged him to now help those who were in his place before.
"May mga tinutulungan din akong mga anak ng magsasaka sa kanilang pag-aaral na walang kakayahan ang kanilang magulang na sila'y tulungan, katulad ng ginawa ng PSFI sa aming out-of-school youth na binigyan ng tiyansa na mabago ang buhay, ang kinabukasan." Romano shared.
The booths and exhibit continued until Day 2 of the celebration.
Smiles and gratitude were never short at any given point in time, and PSFI was glad to share this moment with the people who were part of achieving 40 years of progress.
PSFI expresses their gratitude to all the partners, stakeholders, and beneficiaries who not only made the journey of reaching 40 years possible, but also helped make each program effective and successful. Their partners truly are the core of this event, and the Foundation hopes that this event further solidifies the bond they share with everyone.
With so much that's taken place in the last 4 decades, PSFI had adapted and improved the way the programs are delivered to partner communities. Looking ahead and moving further, the Foundation aims to continue the good work until the sustainable goals that everybody is working to achieve becomes a reality.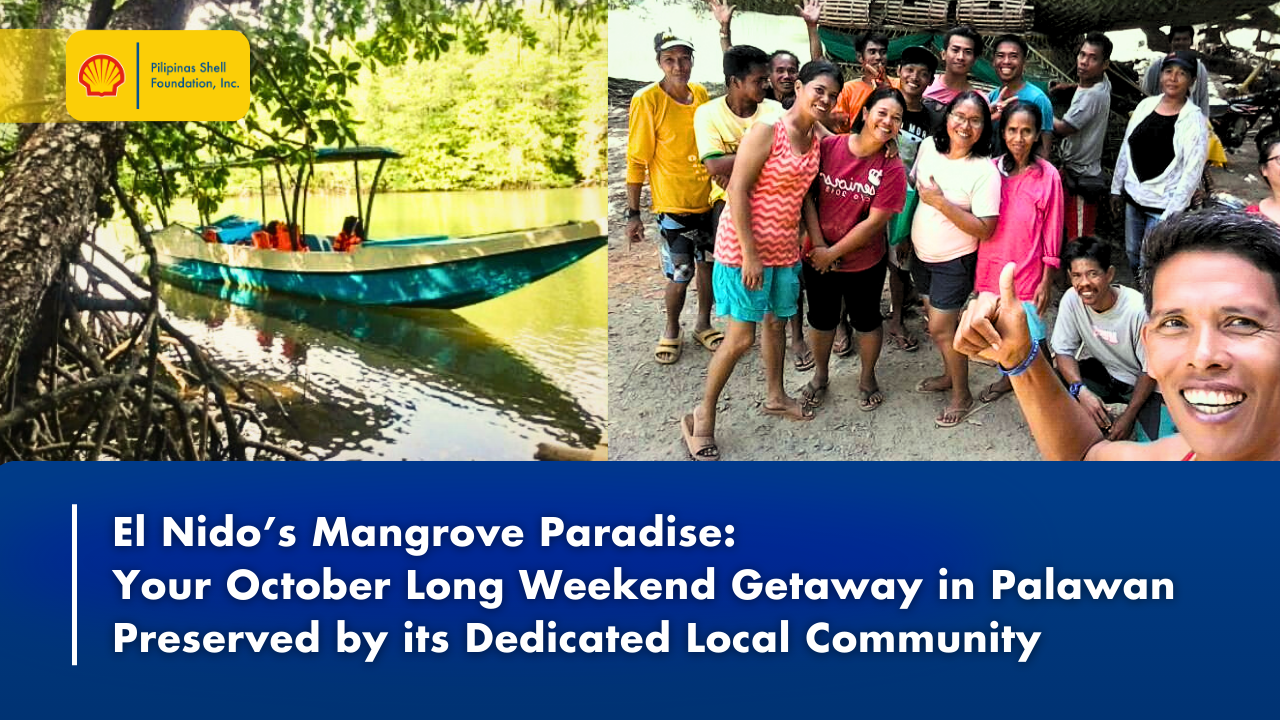 El Nido is a top tourist destination known for its turquoise waters and white-sand beaches. But it also offers a different kind of beauty that isn't known to many. Around 23 kilometers from the town proper is a seldom-explored 412-hectare mangrove forest located in Brgy. New Ibajay. Since 2018, the Dewil Eco-Mangrove Association (DEMA) has been safeguarding and facilitating ecotourism in the area.
Help us empower communities to become responsible and productive members of society
Help us empower communities to become responsible and productive members of society
© 2020 All Rights Reserved | Pilipinas Shell Foundation Inc.