PLANTING THE SEEDS OF PROGRESS:
ROMANO REYES FOR SAKA
Through programs that uplift and empower individuals and communities, PSFI plants the seeds of progress. By nourishing and providing them with care and guidance, these seeds can grow, flourish, and eventually bear fruits to help those around them.
Sanayan sa Kakayahang Agrikultural or SAKA was a program designed to help the children of farmers and invigorate their interest in farming. SAKA also offered scholarships to out of school youth in agricultural programs to help them become more effective farm and business owners. While the program ended years ago, the seeds it planted continues to help those who were part of it.
Romano Reyes, best known as Billy, is a graduate from SAKA's 3rd batch at Pampanga Agricultural College. He is a self-made businessman who never lost sight of his roots. He is the owner of Romano's Drugs & Medical Supplies in Cabiao, Nueva Ecija, as well as a loving husband and a father of three.
He is a hardworking and joyful person who took his learnings form SAKA through different stages in his life to his success. Even at an early age, he had to overcome numerous hurdles and work continuously to get to where he is today.
Being the 11th of 13 siblings, Billy had to find ways to make a living to generate income and save enough for himself; At school during recess hours, he would sell food, snacks, and comics for extra allowance. On his way home he would drop by nearby 'carinderias' to pluck off feathers from chickens, and even sell ice drop on weekends.
"Basta kaya ko, wala akong inuurungang trabaho at laging masaya ako sa mga ginagawa ko."
In high school, he was working alongside his studies. He started working as a helper in an electrical shop where he learned skills related to being a plumber, electrician, welder, and auto mechanic. Around the same time, he started helping his father in their own farm, mastering skills on field work and farming, and absorbing all the learnings his father had to show him. After graduating high school, Billy became a scholar for SAKA.
Having firsthand experience in farming and various labor-based activities, he found the practical studies more manageable. These included actual farming, propagation, and livestock raising among others. However, he found the theoretical subjects and general academics more challenging.
"Para 'di mapag-iwanan, nag double time ako sa pag-aaral. Laman ako ng library—research dito at doon—talagang nagsunog ako ng kilay dahil ayaw kong mawala sa pagiging SAKA scholar."
After three years of studying , he eventually received a Diploma in Agricultural Technology. As a PSFI scholar, Billy also attended the Leadership Enhancement and Attitude Development (LEAD) workshops, a three-day training session that aims to instill positive values, ethics, and leadership skills to PSFI scholars to prepare them for the world at large.
This experience helped Billy find the self-confidence and self-esteem he needed to dream bigger and work harder.
"Ang laki ng impact ng LEAD sa aking total personality development. Dito na rin ako nagsimulang mangarap ng maayos at masaganang buhay para sa aking pamilya at magiging sariling pamilya."
Post-SAKA, Billy started working to help provide for his family. He became a nurse aid, a driver, and even worked as an OFW in Saudi Arabia for 2 years. However, he found that being with his family was what brought joy to his life, so he returned home to help improve their farm. Using his knowledge from SAKA, he was able to transform their family's land into a model farm, making it a sought-after location for movies and television shows.
"Those were the hay-days of our farm. Sabi ko, pwede na din akong lumagay sa tahimik, may maayos na kinikita ang farm."
Around this time, Billy decided to settle down and start a family. . Things were moving in the right direction: he had a successful farm, was expecting a bountiful harvest, and a beautiful life with his wife and their children. But shortly after, their farm was hit by a storm, devastating their crops in its wake. After experiencing this twice, Billy decided to find another source of income to continue supporting his growing family.
He found a job as a driver and delivery man for a company in Manila for medical trade items. It did not take long before he became a sales agent for various suppliers in the city.
"Ang prinsipyo ko sa buhay ay wala akong trabahong hindi kinakaya kasi ang katuwiran ko, mas mahirap pa rito ang ginagawa ko sa bukid."
After a while, he was able to learn the tricks of the trade. With his keen mind and close attention to detail, he observed and took note of the proper ways to manage a business. He then quit his job and used his savings to start his own pharmaceutical business.
"Sa tiyaga, sipag, double time, at pagpupursige, medyo tumaas na ang kinikita ng negosyo. Palagi akong nag cocompute ng pumapasok at lumalabas na cash. Nagustuhan ng mga clients ko ang fast service with good customer care kaya ako nabigyan ng break."
Once more, Billy's dedication shone through. Using skills and knowledge he acquired from SAKA and LEAD, he steadily built a name for himself and established a solid clientele and maintained relationships with different customers and suppliers.
Along with the expansion of his business, Billy used his finances to purchase a bigger farm and invest in multiple properties. Despite his roaring success, he never forgot the people that matter most to him—his family. Billy is happy to be where he is today—handling business side by side with his wife, his children enrolled at reputable schools, and able to support his siblings in multiple ways.. Billy has also been known to extend a hand to other PSFI scholars who are in need of guidance, never forgetting that he was once where they are standing now.
"Hindi naging madali ang natahak kong landas sa pag-asenso but PSFI planted the seed in us and it is up to us now to nurture the seed and let it grow, bear fruits, and share it to others so the same will happen to them."
Being a SAKA scholar helped him realize his potential and untapped capabilities, but his commitment, drive, and perseverance are what enabled him to become the successful businessman he is today. His advice to those who are taking this path is simple: work honestly and earnestly.
"Huwag manlamang sa kapwa. Kahit hindi masyadong matalino, hindi masyadong magaling mag-english, basta may sariling diskarte, aasenso."
One program at a time, PSFI continues to plant the seeds of progress to help uplift the lives of Filipinos and encourage them to realize their potential and follow their dreams. These programs continue to improve capabilities, impart knowledge, upgrade skills, and inspire them to keep move forward.
With programs like SAKA, PSFI continues to pave the road ahead by laying the groundwork and helping Filipinos find their paths to a better future.
The celebration in Camarines Sur continued in the municipality of Bombon. Similar to the celebration in Pasacao, the day was filled with exciting games, activities, and learning sessions for beneficiaries. A wide array of products from PSFI's partner farmers were on display at the STF, IFBS, 3FP, and RTS booths. Prizes were given for those who participated in the cooking contest and raffle draw. The highly anticipated TikTok dance contest also took place, where young members of the community were encouraged to show their creativity in the form of dance while participating in the "Nutrition Month" themed challenge.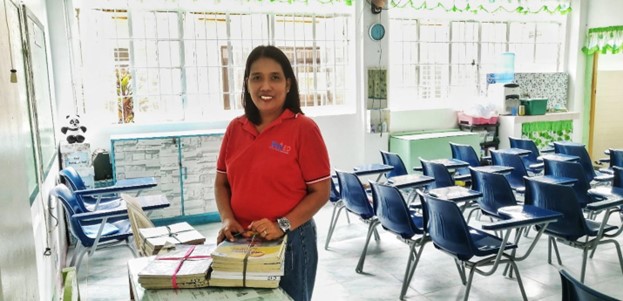 The country had struggled with Malaria
for most of the 20th century, and it
remained one of the leading causes of death…
Help us empower communities to become responsible and productive members of society
Help us empower communities to become responsible and productive members of society
© 2020 All Rights Reserved | Pilipinas Shell Foundation Inc.