Hero from Home:
Fighting Malaria at the Frontier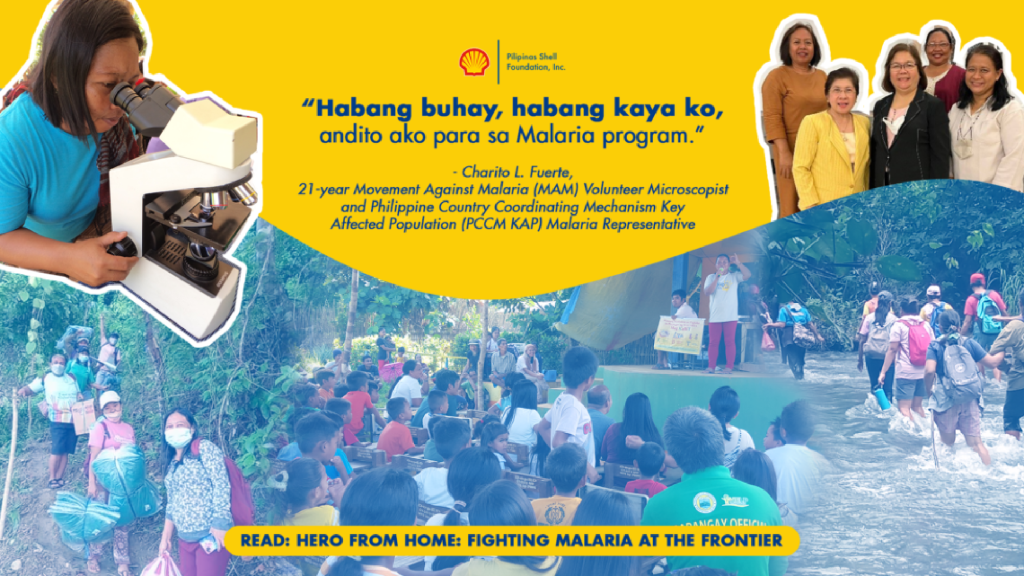 The country had struggled with Malaria for most of the 20th century, and it remained one of the leading causes of death (WHO, 2014). Due to various government and private-sector initiatives, Malaria cases have been declining since the 1980s. However, a Malaria-free community seemed just out of reach for migrant and indigenous Filipinos who lived in remote, mountainous, and coastal areas. While Malaria is preventable and curable, the lack of public knowledge and proper health facilities contributed to Palawan being a hotbed of the illness.

Pilipinas Shell Foundation, Inc. (PSFI) began its partnership with the Provincial Government of Palawan to launch the Kilusan Ligtas Malaria (KLM) in 1999, now the program is known as the Movement Against Malaria (MAM). MAM is a community-based Malaria control program that aims to contribute to the control and elimination of Malaria through community organizing, awareness-raising, capability building, research, advocacy, and networking strategies.

Charito L. Fuerte, or Charry, was among the 50,869 Filipinos afflicted with Malaria in 2001. She is now one of the most seasoned volunteer microscopists in Brgy. Candawaga, Rizal, Palawan. Although, at the time, she was a 30-yr old mother and housewife suffering from the symptoms of a potentially fatal illness.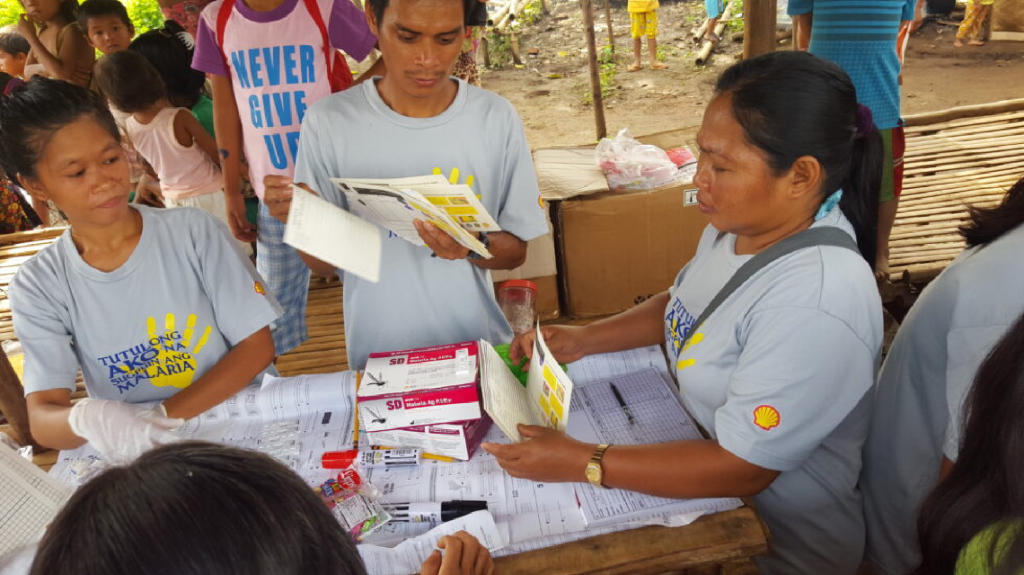 Charito "Charry" Fuerte (right most) conducts Malaria-control activities on-site
After recovering, Charry eagerly volunteered to train as a microscopist at KLM to
help diagnose Malaria. She witnessed friends and family enduring the same
difficulties she experienced—having severe headaches, nausea and vomiting, and
being unable to care for their families.


"Hindi ako nagdalawang-isip dahil alam kong kailangan ako ng mga kapitbahay,
ng community, dahil naranasan ko kung gaano kahirap ang magkasakit ng
malaria."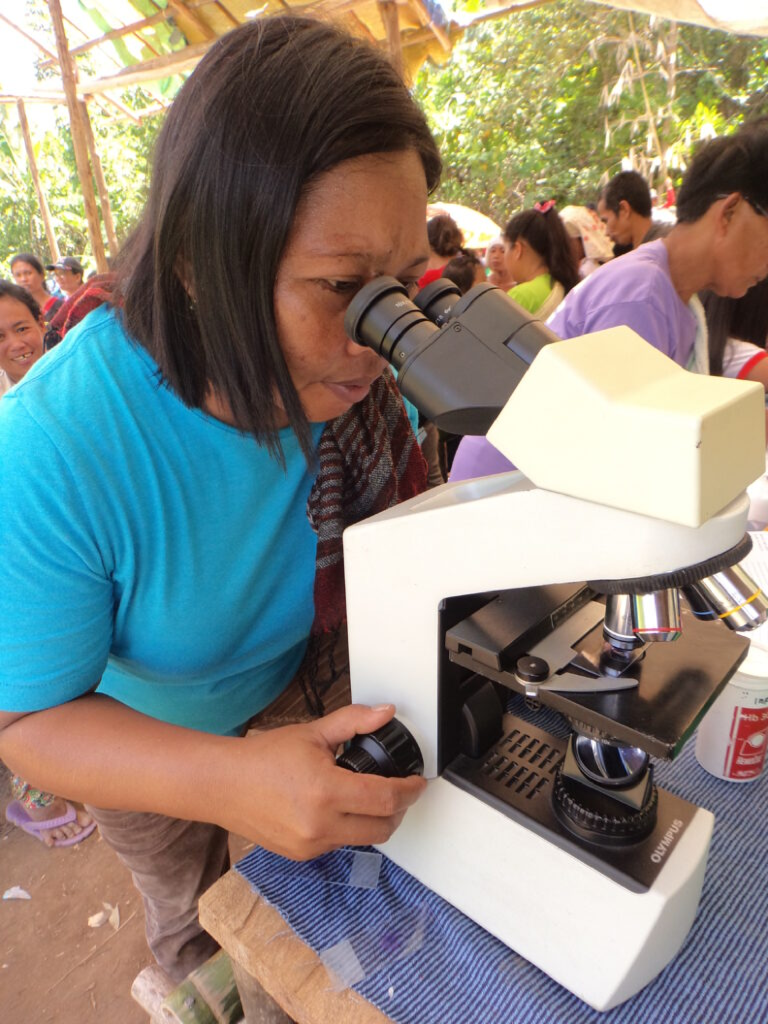 Charry conducts a slide examination at one of her assigned sites.
Charry's compassion towards her community urged her to undergo an initial 35 days of microscopy training, followed by other various capacity building training in the next years of her time as a volunteer. In total, she has devoted 21 years of service to eliminating Malaria in the country, with the intent of volunteering until all provinces become Malaria-free.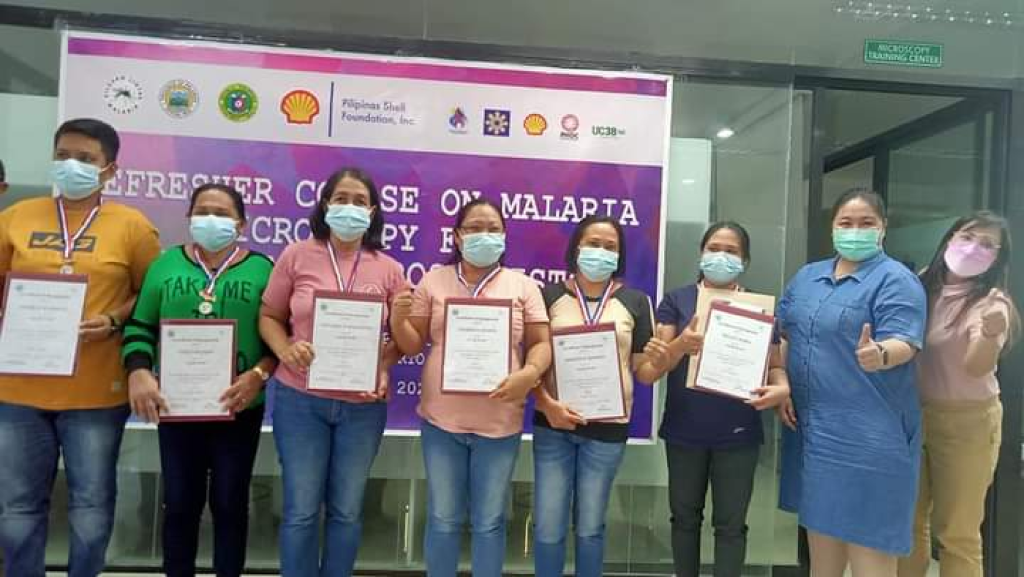 Charry, together with other volunteers, complete a refresher course on Malaria Microscopy.
Volunteers like Charry are burdened with being at the frontlines of battling Malaria in their communities, given that early diagnosis is key to treatment. Patients approach her at home, even at night, to be brought to the Barangay Health Station (BHS). Although only 30min away, Charry and other volunteers endured unlit and unpaved roads with only a motorcycle or habal-habal since those were the only available modes of transportation. At times, they even had to put their lives on theline to bring patients to the BHS. She recalls an instance where they nearly fell off a cliff and another where there was a shooting incident. Charry says that she felt like giving up many times, provided she didn't feel like she was experienced enough, in addition to having a family to care for.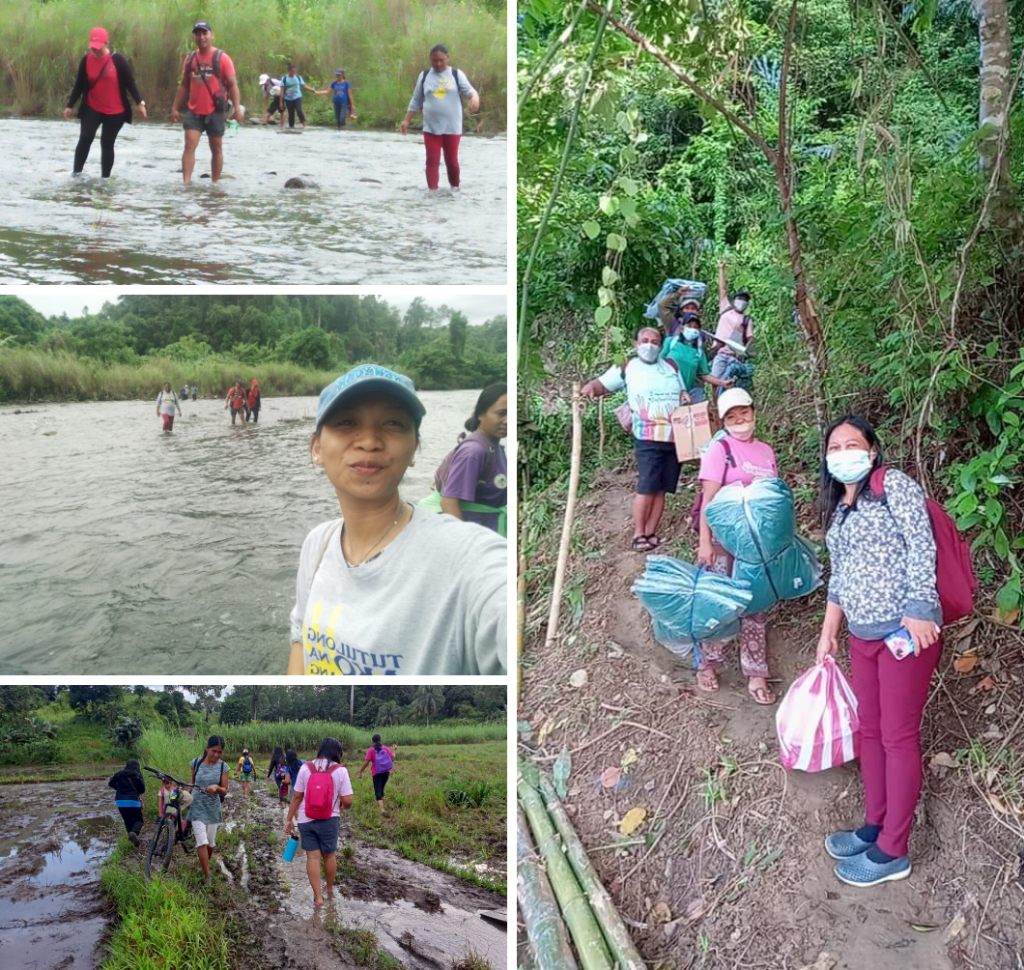 Charry and team on their way to do Active Case Detection (ACD) in Rizal, Palawan
But despite these challenges, Charry's compassion and dedication only intensified. She finds inspiration in her relationship with fellow volunteers and the PSFI team, the improving access to healthcare facilities, and saving lives.

"Kung mahal mo ang trabaho at nakikita mo kung sino pinaglilingkuran mo, talagang matutuwa ka at talagang kahit pagod na, kailangan marating mo yung lugar para sa pangangailangan ng iyong mga kababayan."

Stream clearing in Tagpas, Rizal, Palawan
Aside from the lack of infrastructure, the community's apprehension toward seeking treatment was a great concern initially. After more than two decades of volunteering in KLM/MAM, Charry observed that patients have especially trusted and approached her.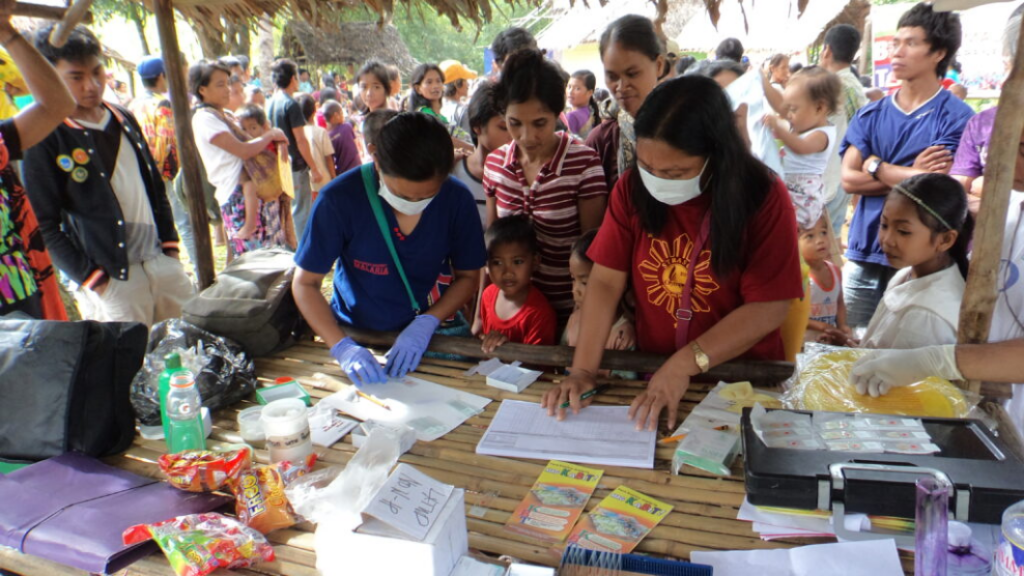 Charry (in red) leads a blood smearing activity during the Malaria Awareness Day on May 22, 2015 in Bgy. Latud, Rizal, Palawan
Beyond the community level, she is now a valued member of the national Movement Against Malaria (MAM) as a Philippine Country Coordinating Mechanism (PCCM) Malaria Key Affected Population (KAP) Representative. As a representative of the PCCM, she is part of the oversight committee in the Global Fund recipients of funding for HIV/AIDS, Tuberculosis, and Malaria,

Around 24 years since the start of KLM/MAM, Malaria cases have decreased by 94% and as of last year, no deaths caused by the illness have been reported. Charry humbly thanks PSFI and communities who trusted her and fellow volunteers, while taking pride in her unique contributions.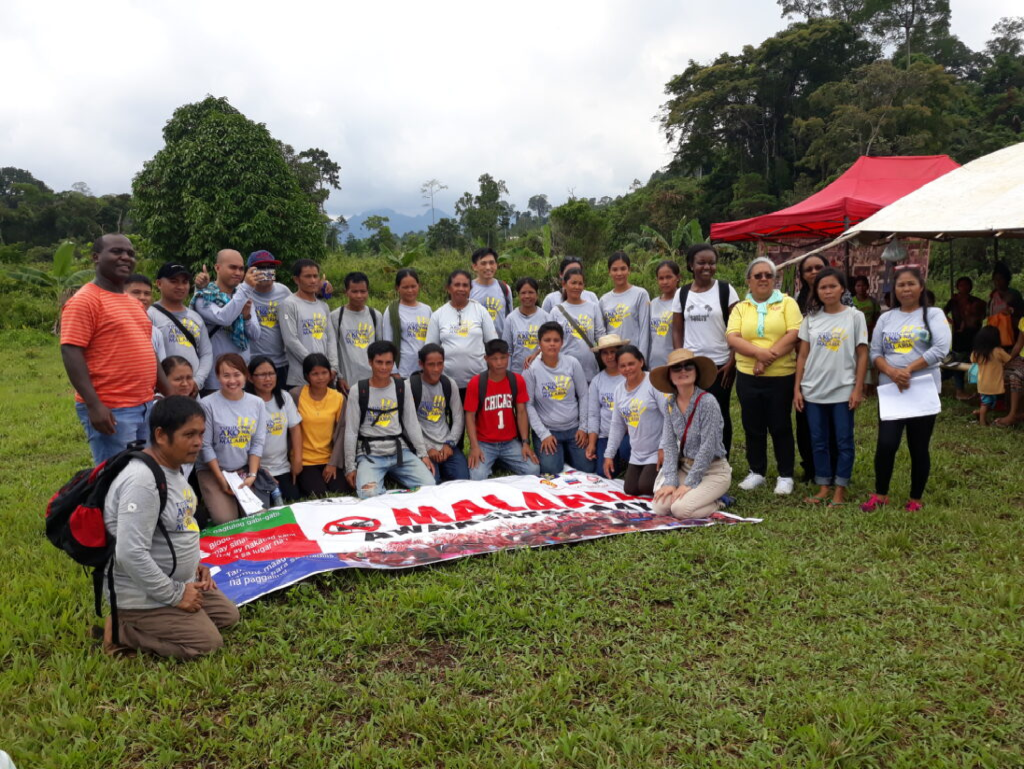 Charry (in red) leads a blood smearing activity during the Malaria Awareness Day on May 22, 2015 in Bgy. Latud, Rizal, Palawan
PSFI believes that volunteers or social workers such as Charry, who ceaselessly advocate for access to basic rights such as adequate healthcare and knowledge, are the ones who push forward the success of programs like KLM/MAM. Charry vows:

"Habang buhay, habang kaya ko, andito ako para sa Malaria program [KLM/ MAM]. 'Noong araw kailangan ako ng pamilya ko dahil nag-aaral mga anak ko, hindi ako sumuko. Ngayon pa na malalaki na mga anak ko, na kailangan din ako ng mga kapatid nating nasa laylayan ng lipunan?' — 'yan ang nasa isip ko."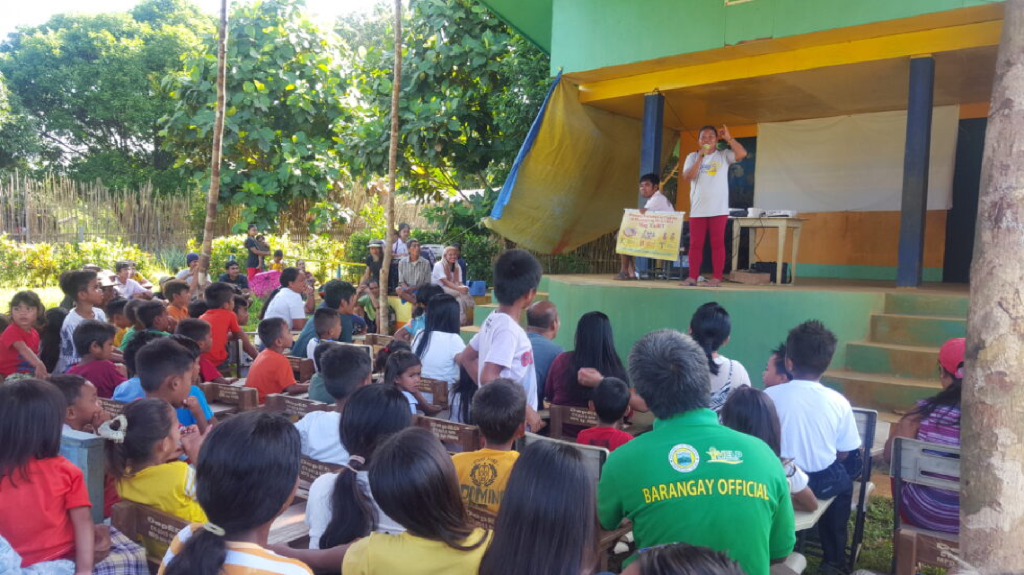 As more provinces are declared Malaria-free, Charry encourages everyone to work together to guarantee that even those in underserved areas such as indigenous people are free from the disease.

"Sama-sama nating sugpuin ang Malaria, dapat makialam tayo at makiisa,"

is her call to action—an effort to encourage others to also see fellow Filipinos as their own kapatid in need.
Tags: Health & Safety, Movement Against Malaria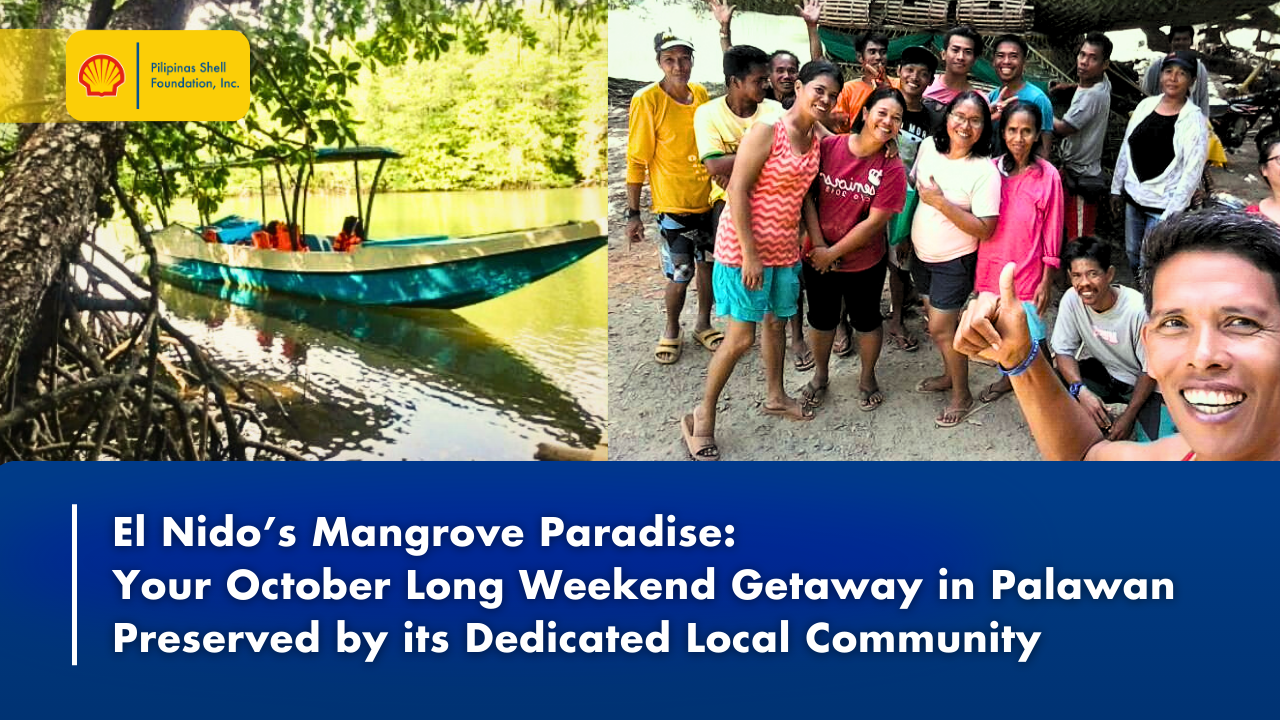 El Nido is a top tourist destination known for its turquoise waters and white-sand beaches. But it also offers a different kind of beauty that isn't known to many. Around 23 kilometers from the town proper is a seldom-explored 412-hectare mangrove forest located in Brgy. New Ibajay. Since 2018, the Dewil Eco-Mangrove Association (DEMA) has been safeguarding and facilitating ecotourism in the area.
Help us empower communities to become responsible and productive members of society
Help us empower communities to become responsible and productive members of society
© 2020 All Rights Reserved | Pilipinas Shell Foundation Inc.